Render selfless services to members, RATTAWU chairman urges union leaders
The newly elected and inaugurated RATTAWU NAN Chapter Excos taking oath of office on Wednesday at NAN Media Center .
By Meletus  EZE
Mr Dare Durosimi, Lagos State Chairman of Radio, Television, Theatre and Arts Workers Union (RATTAWU), has advised union leaders to render selfless services to their members.
Durosimi gave the advice at the inauguration of the new RATTAWU executives of the News Agency of Nigeria (NAN) in Lagos on Wednesday.
The union leader urged the newly elected executive not to betray the confidence reposed in them by defending their members' interests and ensuring their welfare.
He urged the new RATTAWU NAN Chapter Chairman, Ayodeji Fadipe, and other executives to protect the interest of the members who elected them.
"Union service entails a lot of sacrifice and I want you to show competence and commitment to the welfare of RATTAWU members and also protect their interest with your best ability.
"The euphoria of election is over, new RATTAWU leaders should see themselves as servants and render selfless service to the members.
"There are so many challenges, people actually need better welfare even now that recession is affecting jobs of a lot of people.
"You should work hard and carry people along and all the time agitate for better welfare of members. This is why we are elected in the first place," the RATTAWU leader said.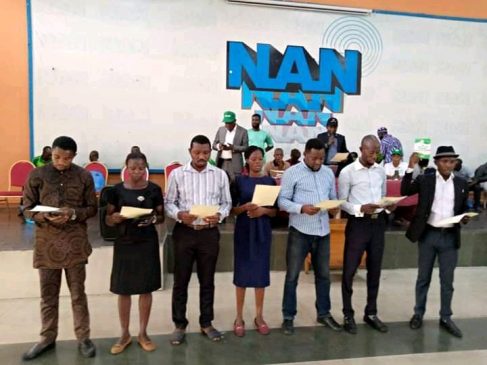 Durusimi commended the management of NAN for giving the union free space to operate, saying that state council of the union is proud of the agency.
In his acceptance speech, Fadipe appreciated all the members for the confidence reposed in electing the new executive to pilot the affairs of the union, promising not to let the union down.
He said that the task ahead of the new executive was to ensure the implementation of the revised NAN Condition of Service to meet current realities.
"The mission is to position the union to one that will always identify with you and be in the forefront of pursuing those things that will make your working conditions and wellbeing better.
"This is anchored on the mission statement of our union which is to promote and safeguard the economic and social needs of members and protect their interest for improvement of our Condition of Service," Fadipe said.
Speaking at the event, Mr Tajudeen Atitebi, Acting Head of NAN Lagos Operations, congratulated the new RATTAWU executive and commended the union for being at the forefront of agitation for staff welfare.
The Chairman, Nigeria Union of Journalists (NUJ) Lagos Council, Mr Adeleye Ajayi, in his goodwill message charged the union and newly inaugurated executives to abide by the constitution and serve with integrity and commitment.
Other elected executives are: Ibrahim Hamza (Vice Chairman), Isiaka Sakiru (Secretary), Olurolake Epebinu (Assistant Secretary), Damilare Odulawa (Treasurer) Olanrewaju Olujimi (Financial Secretary), Adenike Olasehinde (Auditor) and Chinedu Micheal (Public Affairs Officer).(NAN)