Child Cancer: Avoid self medication, lions club urges perents
**** Donated N2 million in LUTH for treatment of children living with paediatric cancer
***** Gave Melvin Jones Awards to philanthropists
By Yusuf Yunus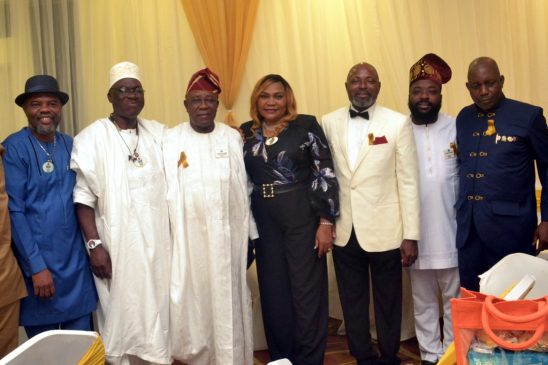 A non-governmental organisation, Lions Club District 404B1, has appealed to perents to avoid self medication on children living with paediatric cancer.
lion lady Kema Benedicta Ashibuogwu, District Governor, Lion Club 404B1, gave the advice during the club's Melvin Jones Dinner Awards and Fundraising for children living with cancer in Lagos on Saturday night.
Ashibuogwu said it became necessary for Nigerians to support the fight against paediatric cancer, adding that the club was deeply concerned about childhood cancer awareness.
He said that the club came together to create awareness on how to fight against paediatric cancer among children.
She said that the awareness became necessary to sensitise Nigerians and parents on rapid increase of the childhood cancer.
Ashibuogwu said that the awareness was part of the club's programme for the year, noting that some Nigerians were still ignorant of paediatric cancer .
According to her, some Nigerians are not aware of the illness and many children are being loss due to cancer and ignorant of their perents.
"If childhood and adult cancer are detected early, it can be treated and the victim can survive.
"We need to let Nigerians know that childhood cancer is not a death sentence," she said.
The district governor said that there were many challenges confronting parents in area of funding and cure.
She said that the club had donated N2 million to Lagos University Teaching Hospital (LUTH), to support treatment for any child with cancer.
"We have different kinds of cancers in Nigeria that affect children and LUTH are specialist in that area and has statistics on affected children.
"As district, anybody who brings child can access the fund. We have also wrote our international partners for their support towards  funding to assist Nigerian children against cancer.
"So, many Nigerian parents came from outside Lagos to treat their children who had cancer in LUTH, and it was observed that some left their children unannounced and ran away, " she added.
Ashibuogwu said that the essence of the dinner was to raise funds for children living with cancer ane also gives awards to those who have supported the district towards the childhood cancer awareness donations.
She assured that money raised from the awards would be channelled towards supporting the eradication of childhood cancer.
The lions club governor, therefore, tasked corporate organisations to assist in creating more awareness and supporting treatment of children living with cancer.
"There's need for our politicians to pay more attention on children living with cancer.
"We have series of projects we have outlined for 2023 but childhood cancer is our priority and we hope that Nigerians will key into the projects.
"We are giving 55 awards tonight, 11 are receiving awards for Melvin Jones, 11 for members of the clubs, 13 for members from regions and those who have contributed to the project will also receive 20," she said.
According to her, report shows that about 2.2 billion people have vision impairment or blindness, 300,000 children are diagnosed with cancer each year.
"300 people die from measles daily, one in eleven people has diabetes and by 2025, 50 per cent of the world will live in water-stressed areas.
Lion Opeyemi Akinnola,  Chief District Protocol for District 404B1, said that the awards were to appreciate and recognise those who have contributed to the support of the club's programme in the turn of 1,000 dollars and above.
"This is a way the District Governor wants to honour those members and outsiders who had supported the district in its capacity," he said.
Akinnola said that the club is championing the campaign to nooks and crannies of Nigeria.
He said, "We are appealing to everyone in the country to subscribe to the awerness through their support and encouragement towards sensitising the entire pupulace.
"We have our proposed care giver initiative project with the Federel Medical Centre.
"We are partnering various organisations and media on awareness and sensitisation on childhood cancer, because it's real."
"We urge perents to keep tab on their children's health and once they observe any signs or symptom they should visit the hospital for checkup.