Eko Disco invests on network infrastructural development
By Yusuf Yunus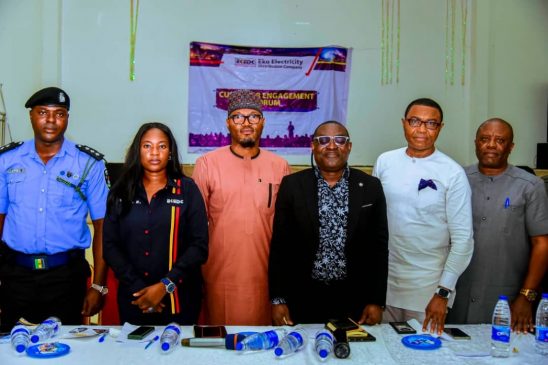 The Eko Electricity Distribution Company (EKEDC) says its Capital Expenditure (CAPEX) is dedicated towards rehabilitation, upgrade and maintenance of various projects and installations within the network.
Dr Sanda Tinuade, Chief Executive Officer, EKEDC, said this during an interactive session with customers during the company's periodic town hall on Friday in Lagos.
The Business Intelligence  (TBI African) reports that customers at the forum were drawn from various areas under Ajah business unit which covers from Ajah Ilaje, Oke-Ira, Addo and Sangotedo.
Other areas under the unit are Farapack estate, Elemoro, Ibeju , Royal Gardens Maine, Medallion, Abraham Adesanya, Ajiwe, Ogombo, urban prime and its environs.
Tinuade, represented at the forum by Mr Aik Alenkhe, Chief Human Resources Officer, EKEDC, said the company was committed to improving the premium electricity supply across its network.
She said that irrespective of the enormous challenges faced within Nigeria's Electricity Supply Industry, Eko Disco on a continuous basis commits huge CAPEX annually as investment to rehabilitation.
She added that the main interest of electricity customers in Nigeria was uninterrupted service and supply, emphasising that power supply must be reliable and of the right quality.
"This includes the rehabilitation of the Elemoro Feeder (Ajah TS), Ajiwe additional feeder (Ajah TS), Langbasa-Ado additional feeder (Okeira SS) and others to stop local load shedding in some areas and fulfill a reliable supply of electricity to its customers," she noted.
Speaking on the priority given to safety standards within EKEDC's operations and workplace, she said this was the way of life of the company.
According to her, customers' safety is a concern to the management of the company, therefore customers should keep off power installations.
"Electricity can be a good friend if used properly, but can also be a bad enemy if not used properly.
"As we strive to give you stable supply, staying under power lines, high tension and voltage lines, or transacting business under power facilities or Right-of-Way is dangerous and can be fatal if there is a wire snap for instance," she said.
Tinuade further restated the EKEDC remains committed to the total elimination of estimated billing,  by urgently targeting metering to match customer growth.
The EKEDC's boss noted that adequate metering was the pathway for customer centric services.
"For us in Eko DisCo, our goal is to meter all our customers because it makes our job easier, enabling us to divert resources and personnel handling estimated billing and Distributed Network Protocol (DNP) to other areas of the business.
She assured that EKEDC would continue to deploy cutting-edge technology to improve response time to fault clearing, energy audit, and real time network monitoring.
She noted that while the Eko DisCo was committed to fulfilling its obligations, he urged customers to be committed to timely payment of their bills.
This, Sanda said, would enable the DisCO to gather sufficient revenue to invest in infrastructure for service delivery and meeting market obligations.
"We do not derive any joy in disconnecting you from supply. At the moment, we are clearing the customers who have made payment for prepaid meters before the recent increase.
"And immediately that is done, we are now going to massively roll out meters for all those customers who are yet to be metered, and who have applied," she further said.
She assured customers that the company was taking their feedbacks and complaints seriously and would resolve all issues before the end of 2023.
She emphasised that the management would come up with action plans to address issues relating to transformer failure, overloaded feeders, and load shedding.
Earkier, Mr Femi Oke, Chairman, Ajah Customer Engagement Forum, highlighted the progress made within the last three years in the area by EKEDC.
He, however, noted that in 2022, electricity customers in Ajah complained a lot more about the lack of electricity supply.
According to him, though the supply has improved this year, the stability of the power supply remains an issue.
Oke emphasised the need for tracking and timely resolution of electrical faults by EKEDC.
He also expressed confidence that the management of the DisCo would take customers' contributions into consideration, particularly in the resolution of force and upgrade of their distribution network.
The Ajah Customer Forum Chairman acknowledged that supply in Ajah was much better than the previous year, but noted that more can still be done to improve the situation.
Oke stressed the need for efforts to be made by the DisCo to permanently fix load shedding in Ajah and also reduce fault resolution time.
Similarly, Mr Uche Iheakanwa, Chairman, Power committee, Lekki Estate Resident Stakeholders Association (LERSA), in his remark,  noted that there was assurance that all issues discussed at the forum would lead to better quality of life for the customers.
According to him, the Lekki Ajah axis is one of the best urban city centers in Nigeria and a prime location that should enjoy steady electricity supply.
He noted that the management of EKEDC had in the last few years been trying, but advised that the efforts should be scaled up to provide optimal services to the customers in the Lekki-Ajah axis.
Iheakanwa assured the EKEDC of every support of LERSA needed to achieve optimal power supply and to address power supply issues in areas underserved and not served by the EKEDC.